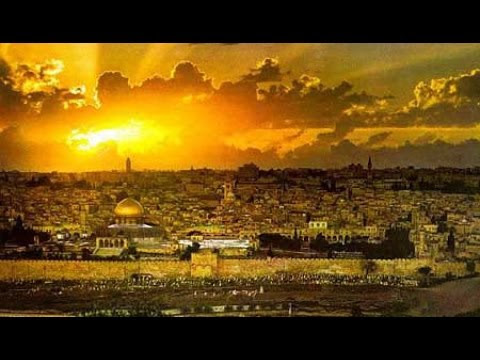 2 Chronicles 6:6 "But I have chosen Jerusalem, that My Name might be there; and have chosen David to be over My people Israel."
Ezekiel 48:35 "The city shall be 18,000 cubits round about; and the Name of the city from that day shall be , "The Lord is there."
There are many verses about how His Name is in Jerusalem. What do you think that means? Ask the Lord to help you understand about His Name in "the city of God", Jerusalem. Have you been to Jerusalem? When I got off the plane in Jerusalem I wanted to fall face down right there at the airport. I can only explain I could feel His Presence so deeply!
I love this verse in Ezekiel saying the city of Jerusalem will now be called, "The Lord is there." You know, when you stay in praise and thanksgiving all day long as you work and talk and relax, etc……He can be in your mind and heart and you will know the Lord is there. Lord, make us ready for Your soon coming as we keep you in our hearts and minds all day and all night.
Prepare yourself for the 21 days of fasting and prayer for the Jewish people coming up soon. If you would like to attend our daily prayer on zoom each morning just put your info in the "contact information" and we will send you a link. Remember we will be praying for the salvation of the Jews and for them to cry out for His soon return. We will read scriptures from His alive Word and pray those scriptures over Israel, the Jews around the world, and even our hearts to line up with His alive Word! May God bless you and keep you. Thank you for all of your prayers for Israel!
Isaiah 62: "For Zion's sake will I not hold my peace, and for Jerusalem's sake I will not rest, until its righteousness goes forth as brightness, and its salvation as a lamp that burns.
And the Gentiles shall see your righteousness, and all kings your glory: and you shall be called a new name, which the mouth of the LORD shall name.
You shall also be a crown of glory in the hand of the LORD, and a royal diadem in the hand of your God.
You shall no more be termed Forsaken; neither shall your land any more be termed Desolate; but you shall be called Hephzibah, and your land Beulah: for the LORD delights in you, and your land shall be married.
For as a young man marries a virgin, so shall your sons marry you: and as the bridegroom rejoices over the bride, so shall your God rejoice over you.
I have set watchmen upon your walls, O Jerusalem, who shall never hold their peace day nor night: you that make mention of the LORD, keep no silence.
And give Him no rest, till He establishes, and till He makes Jerusalem a praise in the earth.
The Lord has sworn by His right hand, and by the arm of His strength, Surely I will no more give your grain to be food for your enemies; and the sons of the foreigner shall not drink your wine, for which you have labored:
But they that have gathered it shall eat it and praise the LORD; and they that have brought it together shall drink it in the courts of My holiness.
Go through, go through the gates; prepare you the way of the people; build up, build up the highway; gather out the stones; lift up a banner for the people.
Behold, the LORD has proclaimed unto the ends of the earth, Say you to the daughter of Zion, Behold, your salvation comes; behold, his reward is with him, and his work before him.
And they shall call them, The holy people, The redeemed of the LORD: and you shall be called, Sought out, A city not forsaken."